Once again, I was inspired on Pinterest - this is becoming a trend, no? When I saw this Ruffled
Christmas Tree Skirt at Miss Mustard Seed
, I almost fainted. It's gorgeous,
and
NO SEW!!! Hello? SOLD! I could not wait to get my little fingers working on this project!
And boy did I get my fingers working! This puppy took me about 8 hours to make and LOTS of hot glue burns - but is was so worth it!!! The poor little bean was squished in my belly for 8 hours as I was hunched over the fabric, so I took a lot of breaks.
I am so proud of this skirt, seriously proud. This thing was a labor of love, and I really do LOVE her!
I love those darn ruffles - aren't they so fun?
Here she is under the tree... much better than the stained, old and worn skirt I threw away last year!!
See the mass collection of ornaments on the right side? That was Addie, she tends to group all of her ornaments on the same branch, LOL. I leave them there though - that's where she wants them! (I have actually found that if I move them, they always end up back on the same little ole' branch).
Merry Christmas from the Hayes Household!
Linking Up To:
Centsational Girl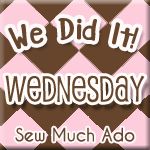 Metamorphosis Monday at