To say I'm nesting would be an understatement. In fact, I'm starting to freak out a little bit about not having the nursery done. What if this little one comes early? AHH - I can't even think about it.
Going into the weekend I had one thing on my mind - refinishing/painting Baby H's dresser! Originally I was going to use chalk paint, but I just couldn't rationalize spending $80 on paint when I got the dresser AND a nightstand for $75 off Craigslist. Just didn't make sense to me. So, instead, hubby has been working hard on stripping and sanding. In fact, he got such a jump on it that I didn't have time to take "proper" before pictures. I had gone out to run errands and he had already started stripping (the paint that is), so I snapped some during pics instead. Here's what we started with (don't mind the messy garage):
The dresser itself is Basset - and it had been well loved (with lots of layers of white paint) for years before it ended up here.
I really liked the French Linen color, so I found a paint color that was similar at The Home Depot - Behr Olivewood. I had thought about staining the top in a walnut color to match the crib, but in the end, we ended up just painting the whole thing.
For the knobs, I wasn't sure what I wanted - so I headed over to Hobby Lobby to check out what they had. As I was standing in the knob isle, I wondered why there were so many people crowded into that space. Then I realized that all of their knobs and pulls were 50% off. SCORE! I picked up, and put down, a few different choices, until I found these stars. They were perfect! In the basket they went, at only $1.50 apiece!
They didn't have any pulls that fit, so luckily Home Depot was just across the street. I ran over there and found these. Simple, but the color matched and the price was right. Once again - in the basket they went.
I am so thrilled with the final product. It looks perfect in the room against the light aqua paint. Exactly what I wanted. Once more project down!!
This weekend we tackle the electrical spool table. That should be interesting. I already have hubby strategizing to figure out how it will work. The crib will be delivered on Thursday - moving right along!! Starting to feel a little better, but I won't rest until it's all done!
XOXO
Linking Up To: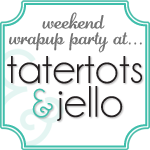 Friday Flair at Whipperberry