So - I first have to share some good news! I found out yesterday afternoon that I got the job that I have been interviewing for! I'm so excited and I start on May 9th! After 4 months of unemployment, this job literally fell in my lap. I wasn't sure if I wanted to go back to full time work or not because the thought of doing what I have been doing (working in an advertising agency) didn't really appeal to me any more. I was burnt out, and I knew that I needed something new. So, when a friend (and former client of mine) contacted me about this opportunity, I was immediately interested. It is a work from home position (which in the marketing industry is VERY hard to find), and I will be doing something completely new - recruiting! I can't wait to start - I think that this is going to change everything for my family. Of course I will still continue my blog, crafting and my Etsy shop. :o) You can't get rid of me that easily! LOL.
OK - so on to today's project. After painting my kitchen wall with chalkboard paint, I still had some left over. Ever since I went to Goodwill and brought my treasures home, I have been wanting to paint the platter I got. (I still have more I want to do with the leftover paint - I'm on a roll, so why not??).
Here's the new platter. I ended up displaying it in our entryway with some of the other things I got as well. The directions on the paint can said to prime the surface before painting, but I just slapped the paint on. I think it will be fine though. I did follow the rest of the directions and let the paint sit for 3 days before writing on it.
I guess my dog Biscuit wanted to make an appearance today! He's sitting on the landing on our stairs - one of his favorite lookout spots. Happy Friday!
Linking Up To: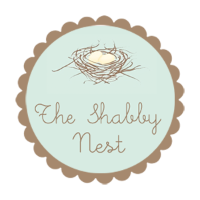 Tatertots and Jello Weekend Wrap Up Party